The People's Choice Award
Congratulations
to the 2020 ACEC Georgia Engineering Excellence People's Choice Award Winner!
WK Dickson & Co., Inc.
Wastewater Treatment Facility Renovations
Dahlonega, Georgia
This year the second most prestigious award, the People's Choice Award, will be a digital contest. This is an opportunity to open up the voting to more than just awards dinner attendees, as well as enhance your firm's digital marketing. Please review all of the projects below. Once you have decided on the project you would like to vote for the People's Choice Award, click on the link at the bottom of the page. The link will take you to a document to cast your vote. The winner of the People's Choice Award will be announced via a live virtual event on Monday, August 31, 2020 at 11:00 am. Click here to learn more about this live broadcast and to add the event to your calendar, click here!
American Engineers, Inc.
Settingdown Road at Martin Road Roundabout
Forsyth County, Georgia
Project Description
Improve safety, reduce accidents, and add capacity were Forsyth County's primary goals for this intersection safety and operational improvement project. The project was funded from 100% local SPLOST funds and converted a 4-way stop-controlled intersection at Settingdown Road and Martin Road into a single-lane, 4-legged urban roundabout. Construction began in January 2018 and the roundabout was opened to traffic in late 2018. All punch list items were completed by the contractor on 5 June 2019.
American Engineers, Inc. was the prime consultant on the project, providing management services, land surveying, roadway design, drainage design, and utility coordination.
CHA Consulting, Inc.
US 27 at Custer Road Interchange Improvements
Columbus, Georgia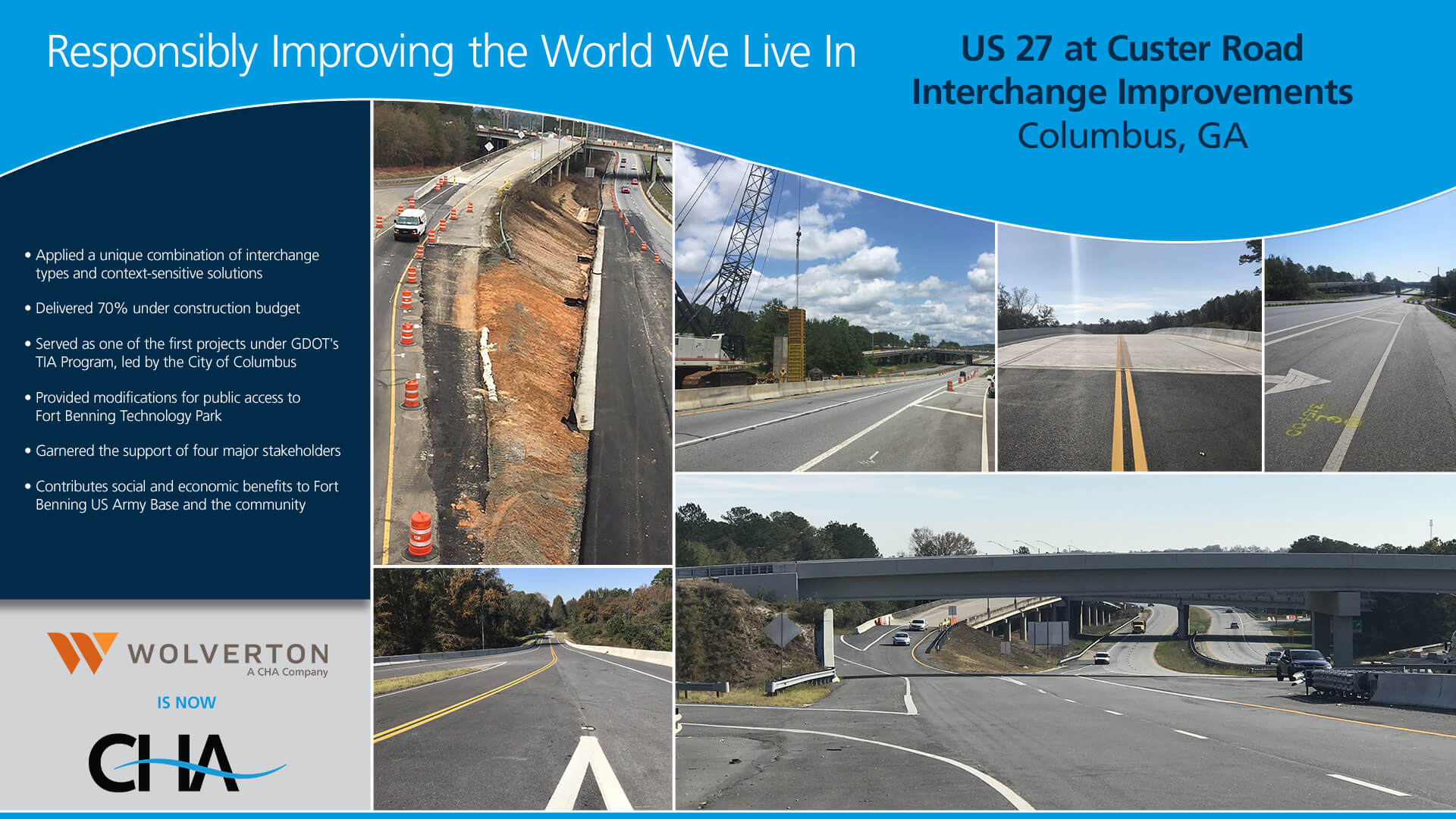 Gresham Smith
SR 10 / US 78 at SR 124 Displaced Left Turn; Including Henry Clower Blvd.
Snellville, Georgia
Project Description
The intersection of US 78/SR 10 and SR 124 sits at the heart of Snellville and South Gwinnett County. After experiencing years of worsening traffic conditions at this pivotal intersection, including major delays during peak traffic hours, Georgia Department of Transportation (GDOT) approached Gresham Smith to develop a cost-effective conceptual design solution that would ease the extreme congestion while minimizing impacts to adjacent properties. Following the evaluation of several concepts for a preferred alternative, Gresham Smith identified a viable solution that would redirect traffic onto an underutilized bypass while managing the heavier volumes through an innovative two-legged continuous displaced left-turn (DLT) intersection—also known as a continuous flow intersection (CFI). The design allows US 78/SR 10 left-turning and through-traffic to move simultaneously, increasing efficiency and improving safety by reducing potential conflict points. Traffic signals at the left-turn crossovers and the main intersection are operated in a coordinated mode so that vehicles do not stop multiple times in the intersection area. The final DLT design not only successfully addressed traffic and community concerns, but did so under budget and within a shorter construction time frame as compared to other alternatives considered
Kimley-Horn
Capitol Square Extension
Atlanta, Georgia
Project Description
In partnership with design-builder Astra Group, Kimley-Horn provided geometric roadway, structural, and stormwater design for the new Capitol Square Extension roadway, including demolition plans for existing pedestrian bridges and a parking structure. The project incorporated an innovative structural system, using unique shoring, cast-in-place walls, and Gravix precast modular walls. Additionally, the project enhances mobility in the Capitol Hill Area by providing new automobile and pedestrian connectivity and creating an alternative route for temporary road closures during Capitol Hill events. Design and construction were completed in approximately one year—in time for the legislative session and gubernatorial inauguration.
Kimley-Horn
Super Bowl LIII Transportation Playbook
Atlanta, Georgia
Project Description
Kimley-Horn was selected by the Atlanta Super Bowl Host Committee to provide transportation planning support services for Super Bowl LIII at Mercedes-Benz Stadium. Kimley-Horn led the traffic management plan preparation effort, coordinating efforts between the Host Committee and Georgia Department of Transportation's (GDOT's) Regional Traffic Operations Program (RTOP) for support among the NFL's transport and event management consultants and local agencies, including Georgia World Congress Center, Atlanta Police Department, and the City of Atlanta. The team worked with the Host Committee staff to develop preparatory maps for the media and the public-facing website, which included high-level graphic representations of major road closures and detour routes. Kimley-Horn's role within GDOT's RTOP program included developing the traffic signal timing plans and providing all traffic operations remotely from GDOT's state-of-the-art Transportation Management Center (TMC) for the entire 10 day event period. The RTOP team developed innovations such as programming pedestrian "scrambles" by time-of-day, during which pedestrians were prioritized during peak event times by setting the traffic signals to red and each crosswalk synchronized to "walk" for an extended period. An additional innovation was dubbed the "Green Carpet," in which signals were coordinated to hold green along major corridors to allow for improved flow for police escorted event participants—including teams, cheerleaders, halftime participants, members of the media, and VIPs to the Stadium—while providing improved safety for the escorts and faster recovery for surrounding traffic. Through open connections, active management, and efficient real-world planning, the Atlanta Super Bowl Host Committee, GDOT, and Kimley-Horn developed game-changing operations for one of the largest and most challenging events in Atlanta's history.
Michael Baker International
Courtland Street Bridge Replacement
Atlanta, Georgia
Project Description
Time was of the essence for Atlanta's Courtland Street Bridge replacement. An important artery for the city with access to Georgia State University (GSU), the State Capitol, Atlanta City Hall and Mercedes-Benz Stadium for more than a century, the old Courtland Street Bridge showed significant signs of deterioration and needed to be replaced to safely handle increased traffic and heavier vehicles. With the General Assembly of the Georgia Legislature and 2019 Super Bowl at Mercedes-Benz Stadium looming, an innovative solution was needed to complete the project ahead of these major events.
Partnering with project owner Georgia Department of Transportation (GDOT), the Design-Build team of lead designer Michael Baker International and contractor C.W. Matthews developed a plan that would cut down construction time from two years to just five months using accelerated bridge construction. A combination of skill, communication and expertise allowed the team to finish the project safely, within budget and most incredibly of all, ahead of schedule.
Pond
Samsung Electronics, Complex 3 Expansion
Newberry, South Carolina
Project Description
Samsung enlisted Pond to design and construct a 350,000 SF warehouse extension conjoined to the existing facility of their first U.S. based home appliance manufacturing campus. The project was scheduled for completion within a strict seven-month time frame and had to be executed without interruptions to Samsung's daily operations.
Despite being confronted with various obstacles, the design and construction teams navigated the massive scope of the project with ease. Complexities of the project included facility constraints, communication barriers, the concrete deadline, and unforeseen site conditions. During construction, the team encountered existing electrical conduits that served the facility's emergency systems, which required an immediate solution. This inconvenience was exacerbated by the intense, wet weather plaguing the site during the construction season. However, Pond managed to remedy issues in a timely manner and ensure a prompt finish to the project.
Unique aspects of the project included the concurrent construction of multiple phases, the streamlined in-house collaboration, client accommodations, a focus on sustainability, ultimate safety success, and a major economic impact on the surrounding region. The strict deadline required teams to work on different phases simultaneously. This objective was simplified by in-house collaboration and communication. As the civil, structural, and architecture teams designed the plans, the constructors began to mobilize on-site to prepare accommodations to permit the client's daily operations to continue. Additionally, the project emphasized sustainability by incorporating a low VOC component and rockwool insulation, which intends to save approximately 100 times the amount of carbon emitted.
Pond's design included innovative features that would enhance Samsung's overall operations. The team developed a caustic tank mixture to assist the injection molding process for the control exhaust management of TPE fusion and nonreactive materials. They also produced warehousing, racking, ESFR fire suppression, QC labs, and shipping elements that would optimize storage and delivery capacity. Additionally, the creation of methods to facilitate the entrance of existing plastic extrusion plant components and incoming raw materials led to the seamless integration into the existing facility.
By prioritizing engineering efficiency and ensuring on-time completion, Pond's construction teams adapted to meet the unexpected challenges and design revisions. The new extension optimizes the delivery of materials needed for final appliance assembly, successfully integrates with the former space, and has improved Samsung's production process. As Samsung expands, they continue to spur economic growth in the region and enhance the lives of their community. This campus for Samsung has created nearly 1,000 new jobs for the area. Pond is proud to support initiatives that push the envelope, improve processes, and elevate the local economy.
Prime Engineering, Inc.
Georgia International Conference Center (GICC) Gateway Center Arena Development Program
College Park, Georgia
Project Description
The City of College Park signed a deal with the Atlanta Hawks basketball team to build a 106,000-square-foot, 5,000-seat arena to host games for the Hawks' "G" League team, the College Park Skyhawks. The facility includes an event space, plus supporting offices, locker rooms, storage, and other ancillary space.
Work was to begin in spring 2017, and the entire planning, design, and construction process had to be completed in 30 months for a fall 2019 opening. Needing a reliable, trusted partner, College Park retained Thompson, Ventulett, Stainback & Associates Architects and its team of engineers that included Sykes Consulting, Inc. (Sykes) and Prime Engineering, Inc. (Prime) to design critical components of what would be called the Georgia International Conference Center Gateway Center Arena.
R2T, Inc.
Water Distribution System Model Calibration and CIP Development
Roswell, Georgia
Project Description
DWM has engaged in hydraulic modeling of its water system since the 1990's. Until recently, the models were kept as high-level planning models which were developed directly off plat cards and were not calibrated. They were not GISbased and did not streamline with other data sets. Moreover, the models were not generally trusted by operators who had little input to their development. In order to optimize its long-term planning, DWM elected to incorporate its recently minted and detailed GIS data set into an "all-pipes" model, calibrate it to SCADA data, and use the model to support a new capital improvement plan. That plan would need to consider DWM's unique challenges of renewed growth, aging infrastructure, planning uncertainties, and costly construction.
RS&H
Hardscrabble Green Loop Complete Street
Roswell, Georgia
United Consulting
The Edge on the BeltLine
Atlanta, Georgia
Project Description
The Edge on the Beltline is a premier mixed-use redevelopment located between Edgewood Avenue and DeKalb Avenue in Atlanta. The approximate 4.5-acre land included four, separate, long-time vacant and blighted parcels that were primarily historically developed with a railroad line, dry-cleaning plant, metals recycling facility, and a former roadway. United Consulting assessed the environmental conditions and regulatory status of this blighted site, provided property acquisition guidance, and assisted the developer with enrolling and completing the Georgia Brownfield process for the re-development.
Uzun + Case
725 Ponce
Atlanta, Georgia
Project Description
Located on the Atlanta BeltLine between North Avenue and Ponce de Leon Avenue is 725 Ponce, a mixed-use development by New City Properties. The $200 million development is a 14-story office, retail, and parking structure designed by the architecture firms S9 Architecture and Cooper Carry. The structural engineer was Uzun+Case, LLC and the MEP engineer was Jordan & Skala Engineers. The project was constructed by Brasfield & Gorrie and Thomas Concrete provided concrete with Carbon Cure technology. The project is 949,300 gross square feet (GSF) including 1,064 parking spaces on the first several levels, 370,000 GSF of loft-style office space, and 65,000 GSF for a Kroger grocery store.
Uzun + Case
The Kendeda Building for Innovative Sustainable Design
Atlanta, Georgia
Project Description
Slated to become the first major Living Building Challenge 3.0 certified education and research facility in the Southeast, the Kendeda building places Georgia in the forefront of sustainable design nationally. The net-positive energy building exceeds the Living Building Challenge requirements for site, water, energy, health, materials, equity and beauty. By using sustainable materials in an efficient and aesthetically pleasing manner, the structural system of the building was an important part of meeting the LBC's requirements.
VHB
Bay Street Widening
Savannah, Georgia
Project Description
This project is worthy of winning for many reasons. The challenges that presented themselves throughout the life of the project were constantly changing, and the design team had to react accordingly.  This meant redesigning certain portions of the project for different reasons while coordinating with a multitude of agencies and stakeholders. The incorporation of the live oak trees into the design gave VHB the opportunity to preserve ecological and cultural resources simultaneously, a rare opportunity in such a major widening project. The combination of a high volume of pedestrian traffic, truck traffic, challenging drainage design, and complex existing underground utilities required a delicate balance of engineering design. Chatham County is extremely satisfied with VHB's performance and final design, which provides an efficient and aesthetically pleasing gateway to Savannah from the west.  It really was a rewarding project to work on!
WK Dickson & Co., Inc.
Wastewater Treatment Facility Renovations
Dahlonega, Georgia
Project Description
The wastewater treatment facility in Dahlonega had outgrown its capacity to serve its community. It also started receiving repeated violations for both phosphorus and ammonia nitrogen discharge limits. These nutrients, when discharged into waterways, can cause algae blooms leading to fish and wildlife toxicity. Through a mandated consent order, Dahlonega sought the services of WK Dickson to help them update their treatment facility equipment and operations, as well as find ways to bring them into compliance with nutrient discharge limits. The result of the project not only made the treatment plant compliant with the consent order ahead of schedule, but it also made the plant more efficient by reducing the operational costs by 25%, thereby saving the city thousands of dollars annually.